Welcome to the website of MATH&TECH
MathTech - your competent partner for machine learning and for the development of software, algorithms and systems for data, signal and image processing.

MathTech gives your machines the ability to see. More than 10 years of experience in industrial image processing, a multitude of demanding projects that
we have carried out for our customers and a team of young, dynamic and highly qualified employees are the basis for our success in image processing.
Our added value

We are strong in the development of algorithms and software solutions for industrial data, signal and image processing. With intelligent image processing
algorithms and individual software, we can solve almost any inspection task.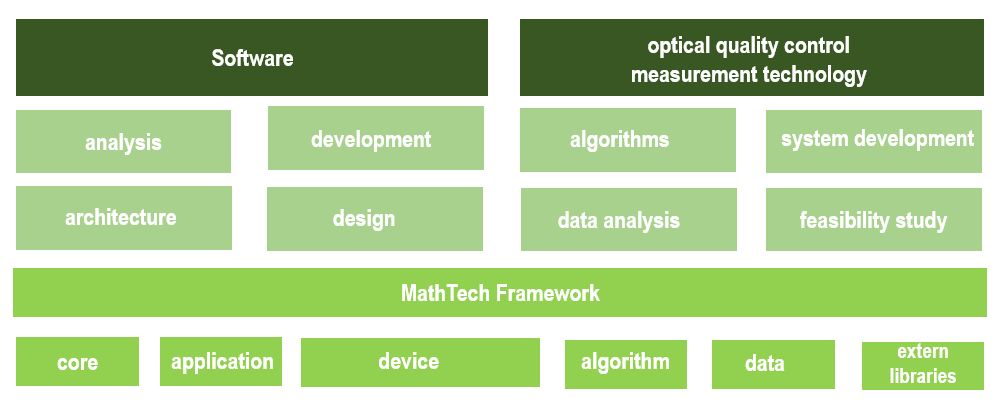 MathTechStudio
Software framework for intelligent image processing solutions
The software framework MTS is a unified environment for integrating hardware (e.g. cameras from IDS), datasets, algorithms and software into a complex
image processing solution.

The most important components are a uniform interface for integrating the hardware, an error catalogue with which the parameters can be automatically
optimised and a library of functions and GUI elements for creating software for industrial image processing. The StateMachine Editor can also be used
to describe the states and sequences and to control all components. All inspection results are statistically recorded and visualised.

A connection of the software to Halcon, OpenCV and ITTK is easily feasible.



Our general services for you:
 Software and algorithms for industrial image processing
    Comprehensive advice on the subject of industrial image processing
    Feasibility studies and turnkey, individual software for industrial image processing
    Data Modeling, Data Management, Process Modeling and Mathematical Modeling
    Algorithm development, software development, data visualization and databases for industrial image processing
    intelligent systems and learning systems for industrial image processing
    Development with MATLAB, HALCON and Cognex
    LASKA Framework, learning system for industrial image processing machine learning
 Inspection systems for industrial image processing  
    2D / 3D - position recognition
    2D / 3D- surveying
    2D / 3D object recognition
    positioning
    presence check
    identification by barcode, data code, OCR
    character recognition
    print inspection
    surface inspection
    color control
    robot vision
    texture inspection
    completeness check
    quality control